The #1 Sales Coaching Company Shares its Secrets.....
Close more deals starting today.
Start Free Trial!
Start your free trial
• 5 day free trial - no obligation to buy
• Close more sales starting today
• Stop second guessing yourself on sales calls
• Learn the top repeatable tips that you can apply today!
• Earn a special Replayz Certification Badge on Linkedin!
"Our team got a HUGE amount of value from this!"
"I made an industry switch and decided to buy this as I was searching for my new sales role. Now my whole sales team has taken Replayz Master Class and we all talk the same language."
Jessica Kight
Corporate Sales Executive, Sworkit
"Every sales rep can benefit from Replayz Master Class. This course simply helps you close more deals. Our whole sales team has signed up!"
Josh Kirkham
Team Lead for Vidyard Emerging Sales
Start your free trial
• 5 day free trial - no obligation to buy
• Close more sales starting today
• Stop second guessing yourself on sales calls
• Learn the top repeatable tips that you can apply today!
• Earn a special Replayz Certification Badge on Linkedin!
Tried and Trusted
Customers love Master Class!

Meghan McKenzie
Crowd Content
"I was frantically Slacking my entire sales team new concepts and new processes while I was watching Dave's articulate exactly what we needed to hear!"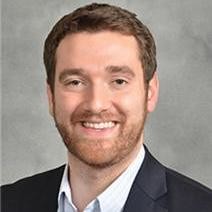 "It was refreshing to learn from someone who has reviewed countless sales calls"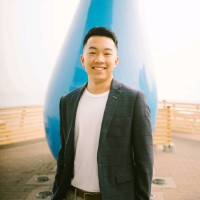 "I didn't realize what I was missing out on until Replayz came into the picture"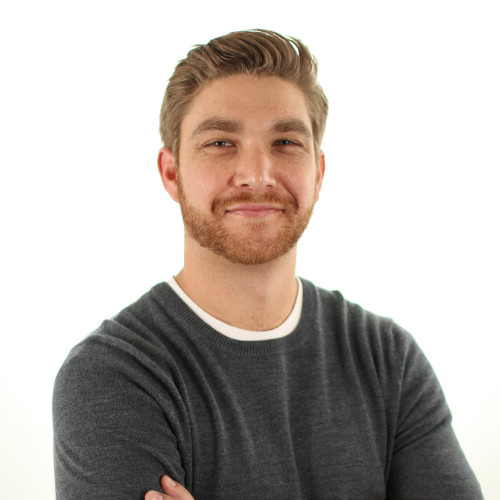 "How to do strong discovery and even things as simple as framing a call. I love Replayz and my team got a huge amount of value from this"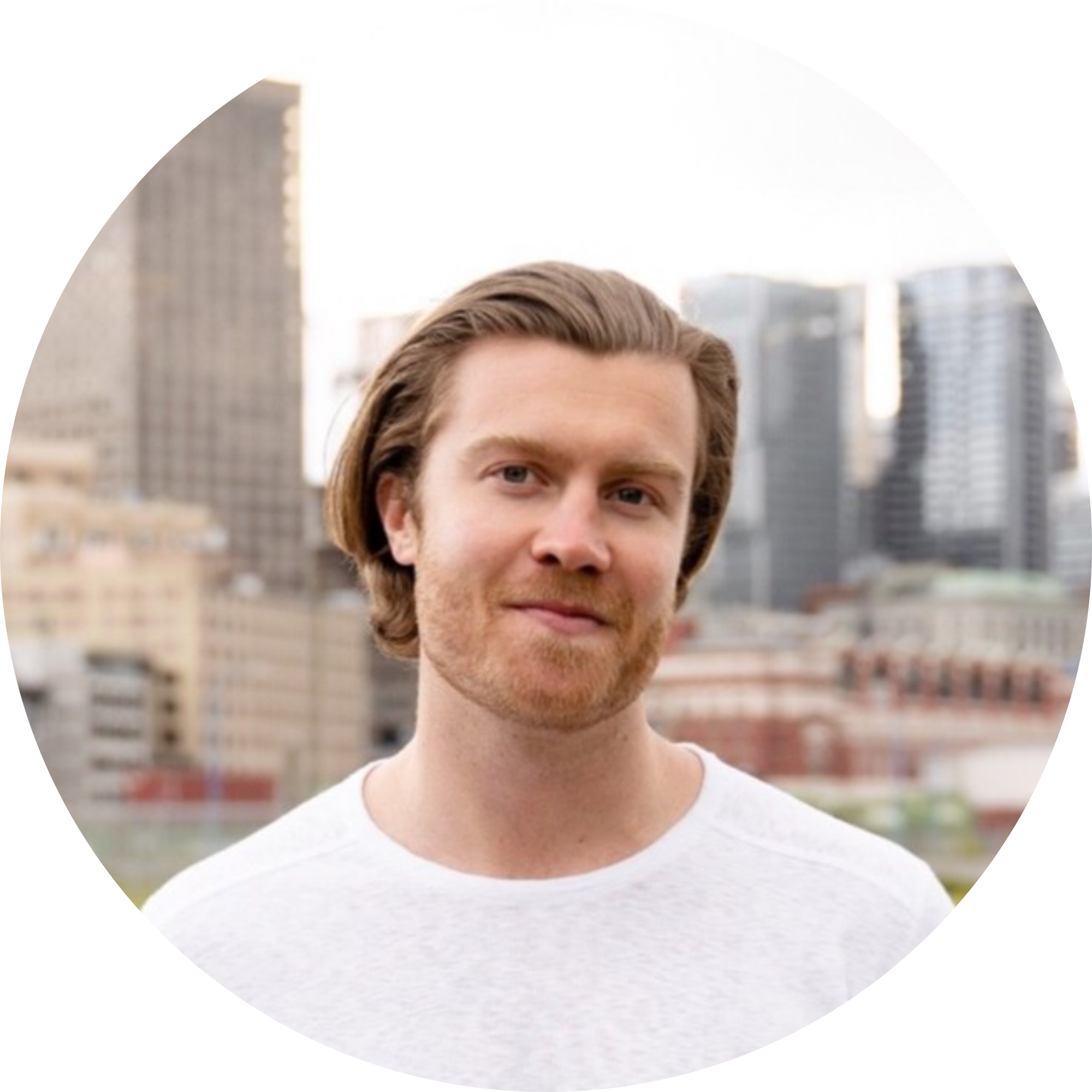 Scott Barker
Sales Hacker & Outreach.io
"Replayz Master Class is a game changer! It's a no-brainer for any seller looking to master their craft."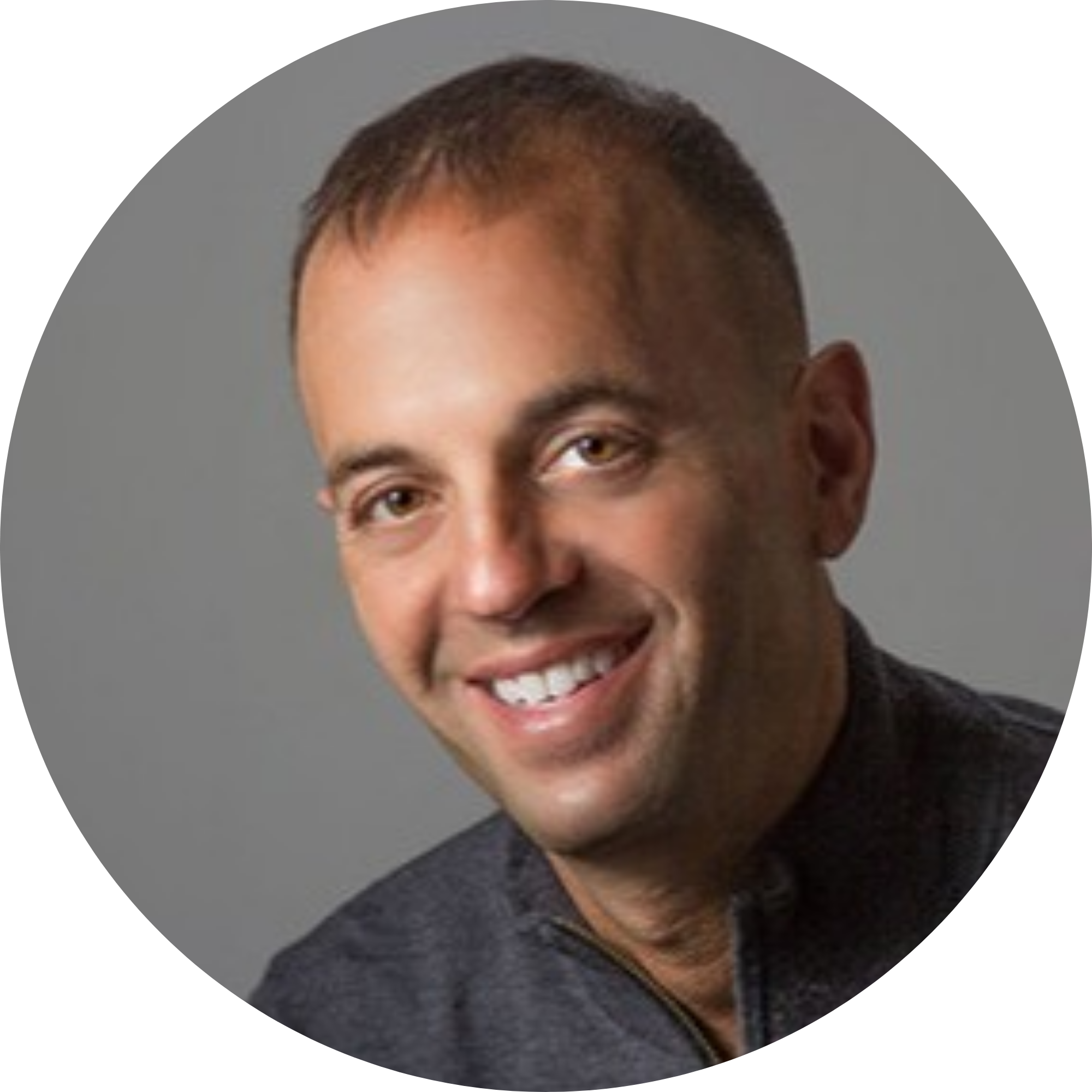 Josh Braun
Josh Braun Sales Training
"There's such a big need for what you provide. Love what you're doing."

Scott Lease
Surf and Sales
"I really believe in what Replayz is doing!"

Feature Snapshot
With this course you will learn how to
Boost Your Win-Rate
It is not uncommon to see a lift north of 5% in close rates when Replayz best practices are implemented.
Nail The First Impression
Build rapport by doing the right research. Learn the ingredients of an effective agenda and how to properly conduct intros & set the tone.
Talk About The Competition
Learning how to effectively de-position when talking about the competition while still being respectful.
Plan For Success
Master high impact best practices that are often missed even by seasoned Account Executives including how to effectively de-position competitors and more.
Tell Great Customer Stories
Learn how to craft what we call "Customer Story Soundbites" to keep your presentation / demo relevant and meaningful.
Close Faster
You will learn how to keep up deal momentum, move deals through stages quicker and reduce the amount of times you get 'ghosted'!
Increase ACV
You will learn how to crush a Discovery call and truly unearth pain, understand the impact of pain, and quantify pain + tailor a solution that will increase deal size.
Ask The Right Questions
Probe around what competitors they are evaluating and what their thoughts are so far. Understand the kind of questions you need to ask to determine success.
Educate The Prospect
Tips on how to position yourself as the expert and make the prospect feel listened to and heard.
"Very quickly I was more confident in saying the right things and asking the right questions in sales calls."
Kevin Erickson
EBI [Business Owner]
Start your free trial
• 5 day free trial - no obligation to buy
• Close more sales starting today
• Stop second guessing yourself on sales calls
• Learn the top repeatable tips that you can apply today!
• Earn a special Replayz Certification Badge on Linkedin!
"Replayz Master Class helped me correct mistakes that even the seasoned vets are making in their customer meetings."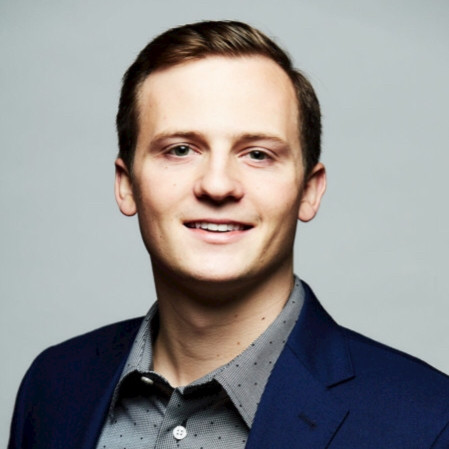 How does it work?
When you sign up for the Replayz Master Class, you get access to 90+ tactical videos covering each step of the sales process right from Pre-call Planning, Beginning of the Call, Discovery, Demo/Presentation and finally, Closing the Call Strong.

Each module contains worksheets and quizzes that help you fine-tune your skills. You get 1 year access to the Replayz Master Class library of videos and can go through them at your own pace.
Receive your "Replayz Master Class Certified Seller" official designation for your LinkedIn profile.

Master repeatable and scalable techniques and best practices to increase win-rates.
Join the community of sales professionals that have experienced the benefits of Replayz coaching.
Master Class At a Glance
What you can expect
The Replayz Master Class is broken down into 6 modules, each with important lessons that will make you a more effective and confident seller from the beginning of the sales conversation to the end.
High quality instructional videos

Detailed worksheets with valuable tips

Quizzes

Transcripts

Unlimited access

Updates from time to time
Start Now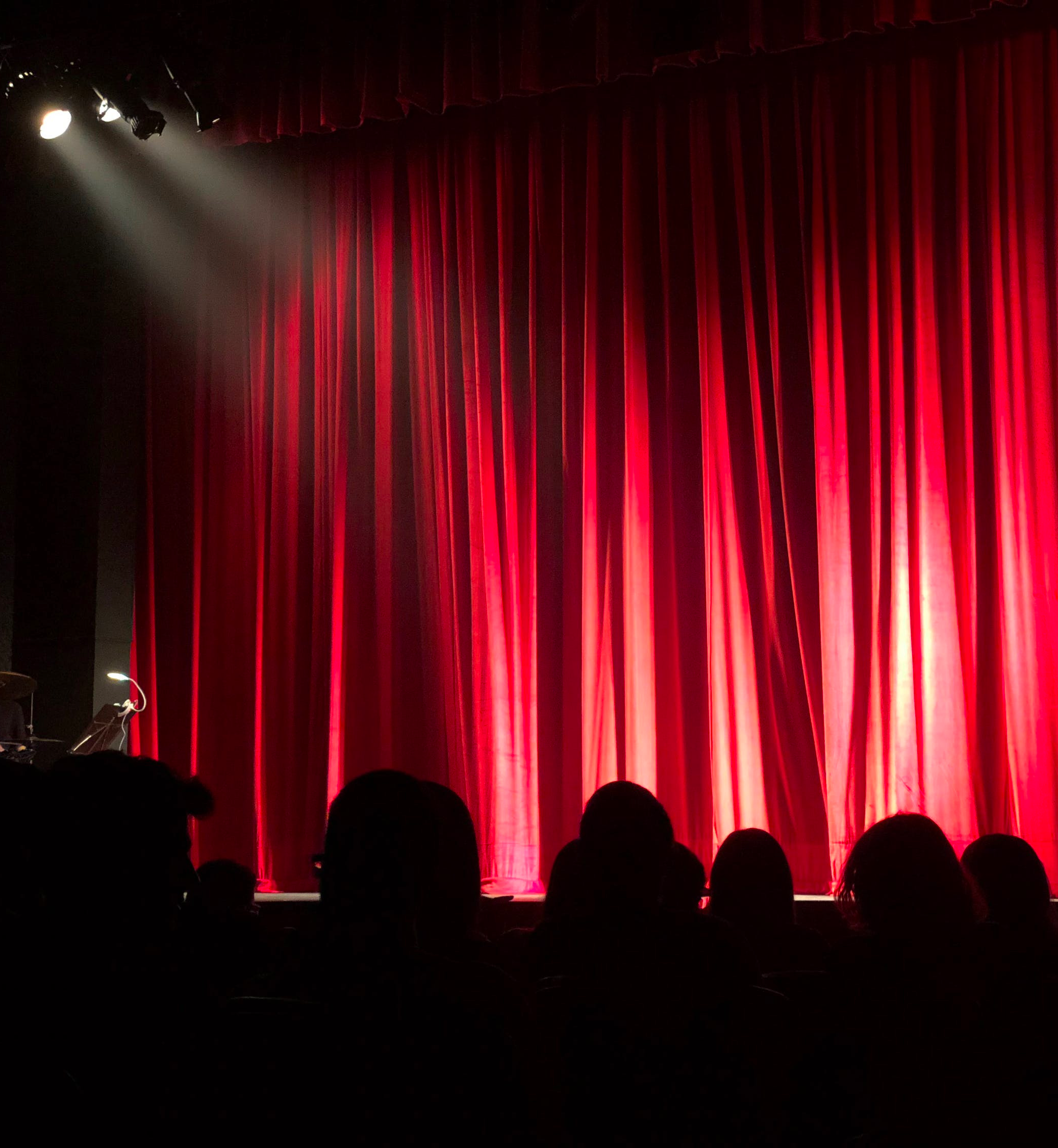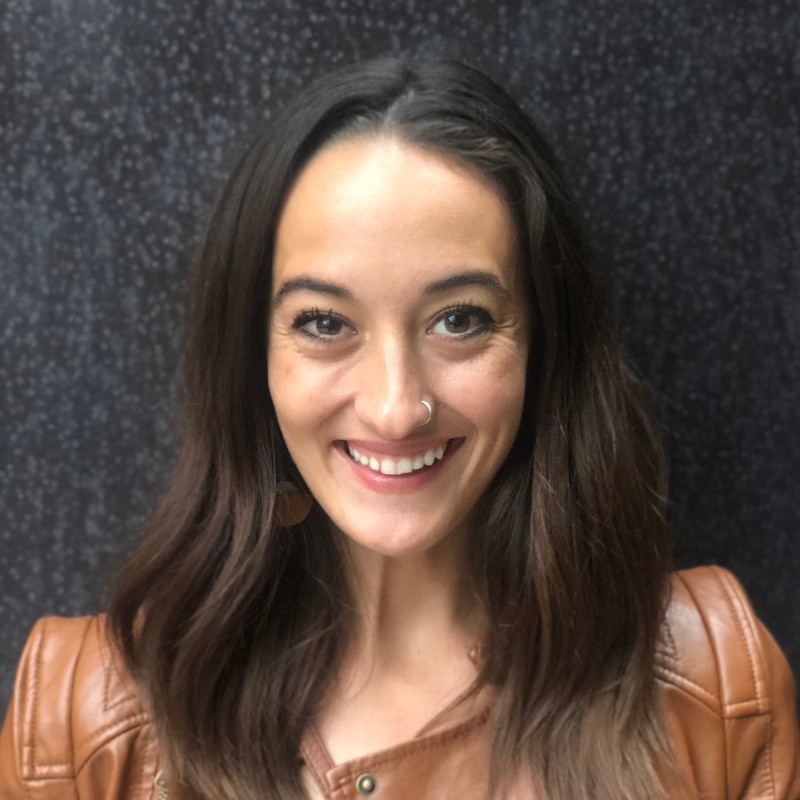 Lauren Bean
Vault Platform
"I applied their teachings to my discovery calls the same day and feel more confident in my pitch and overall sales strategy."
"Replayz Master Class has been incredible!  Can't thank Replayz enough!"
Natalie Jakopin
Account Executive, Sprout
Who is this course for?
Whether you are an individual looking to up your sales game or a sales leader looking to ensure your team has a scalable, repeatable framework for sales conversations we have you covered!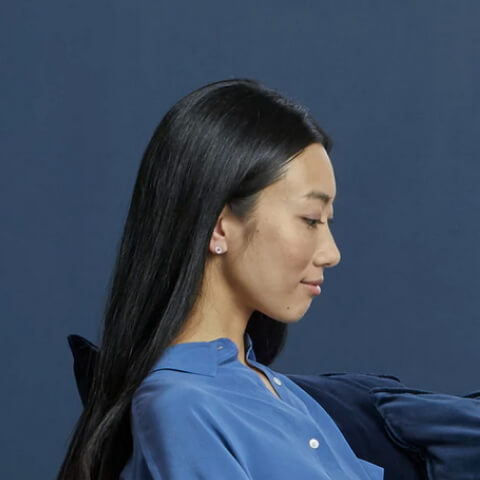 For Sales Professionals:
Seasoned Account Executives who are looking to fine tune their game.

New Sales reps who want to learn the ropes and then challenge themselves with Master-level processes and techniques.

Team Leads and Sales Managers who want to finally have a straightforward yet impactful framework of best practices to coach to.

Sales Engineers, Solutions Architects and Pre-sales reps who need to quickly learn how to be confident in their sales conversations.

SDR's who want to up their current Discovery and sales convo game, but who also want to demonstrate to their Sales Leader that they are ready for that promotion to Account Executive.

Customer Success Teams who realize that sales muscles are so important to confidently navigate through high-stakes renewal, upsell/cross-sells and QBR calls.
Start your free trial
• 5 day free trial - no obligation to buy
• Close more sales starting today
• Stop second guessing yourself on sales calls
• Learn the top repeatable tips that you can apply today!
• Earn a special Replayz Certification Badge on Linkedin!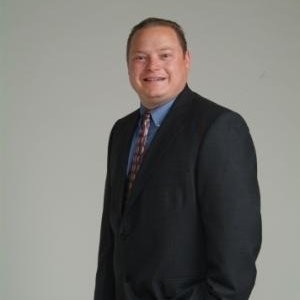 Anthony McPeake
Proof Point
"Replayz provides a comprehensive training program that is appropriate for the new sales rep as well as the grizzled veteran.  With it's eye towards the modern sales landscape I highly recommend it to be part of your sales education program."
"I can't say enough positive things about the Replayz Best Practices. Thank you Dave and Replayz for taking my sales presentation to the next level!"
Start your free trial
• 5 day free trial - no obligation to buy
• Close more sales starting today
• Stop second guessing yourself on sales calls
• Learn the top repeatable tips that you can apply today!
• Earn a special Replayz Certification Badge on Linkedin!
Expert experience
Meet your Sales Coach
Dave Kennett is the Founder & CEO of Replayz, the world's first on-demand call coaching solution for tech-enabled sales organizations. Throughout Dave's two decade career in sales and sales leadership he has held senior roles with large firms such as W.W. Grainger and Autotrader and has helped lead the growth of fast-paced, high growth early to mid-stage tech organizations.

Replayz has helped rewrite the sales coaching playbook for modern day tech-enabled sales. Replayz has a proven track record of helping some of the world's most recognizable brands improve their close rate, increase average deal size and reduce sales cycle times by deploying repeatable, scalable techniques.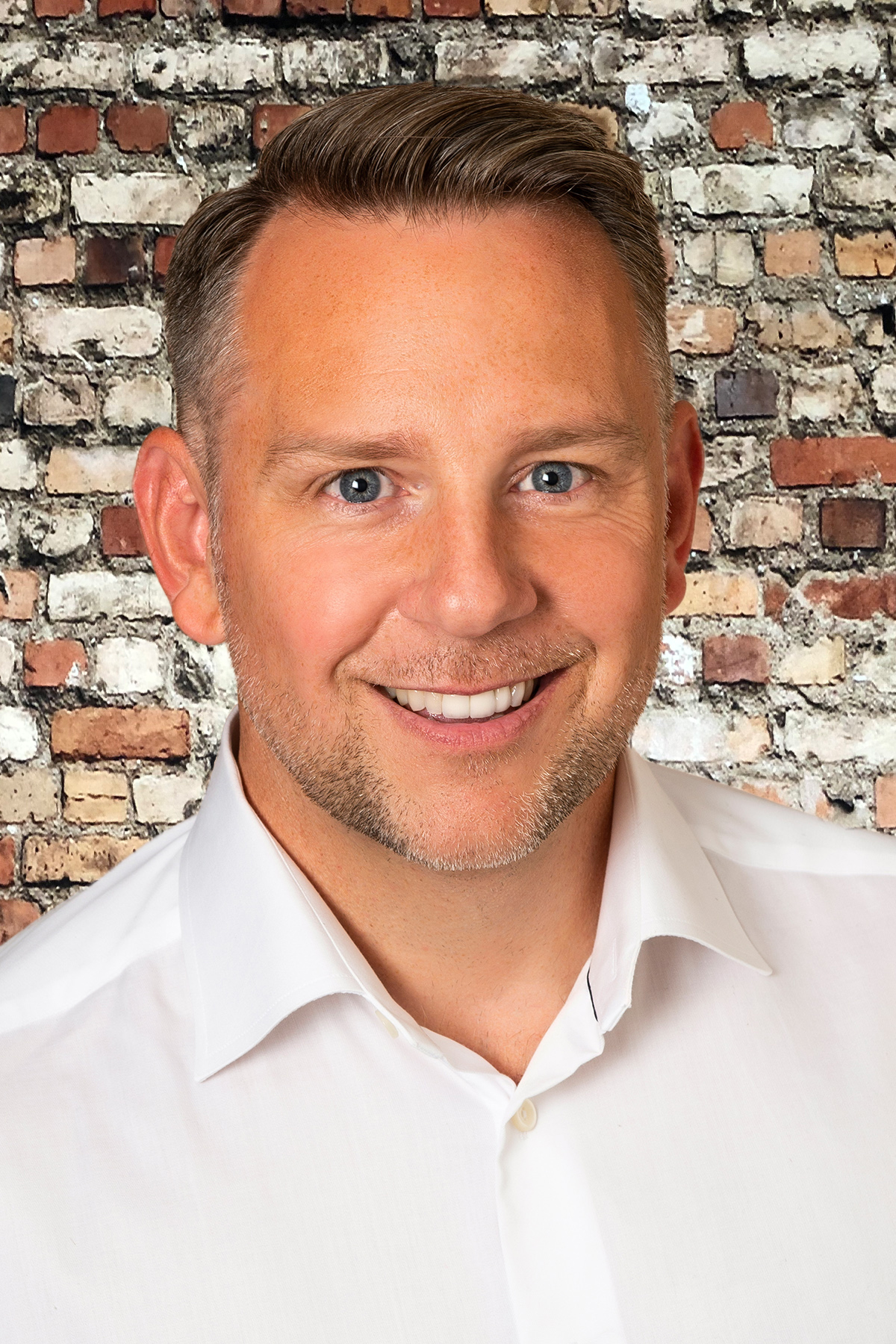 Repeatable, scalable techniques to increase sales!
Imagine...
...if you had the time to watch thousands of Sales Discovery/ Demo/ Closing Calls by top Account Executives at some of the world's highest growth companies so you could connect the dots on what the best Account Executives are consistently doing.

That's what our Replayz Coaching Team has done for you.

We've documented the common traits, processes, and frameworks that these top reps consistently use into our Replayz 93+ Best Practices.

And you can find them all in one place for YOU in the Replayz Master Class!

The Replayz Master Class is designed to be taken at your own pace and features over 93 videos that teach you what the best sales reps do consistently to achieve better win rates.

Keep learning while you sell, wherever you are.
95%
of Sales Reps who received at least 3 call reviews from Replayz say that Replayz helps them close more business.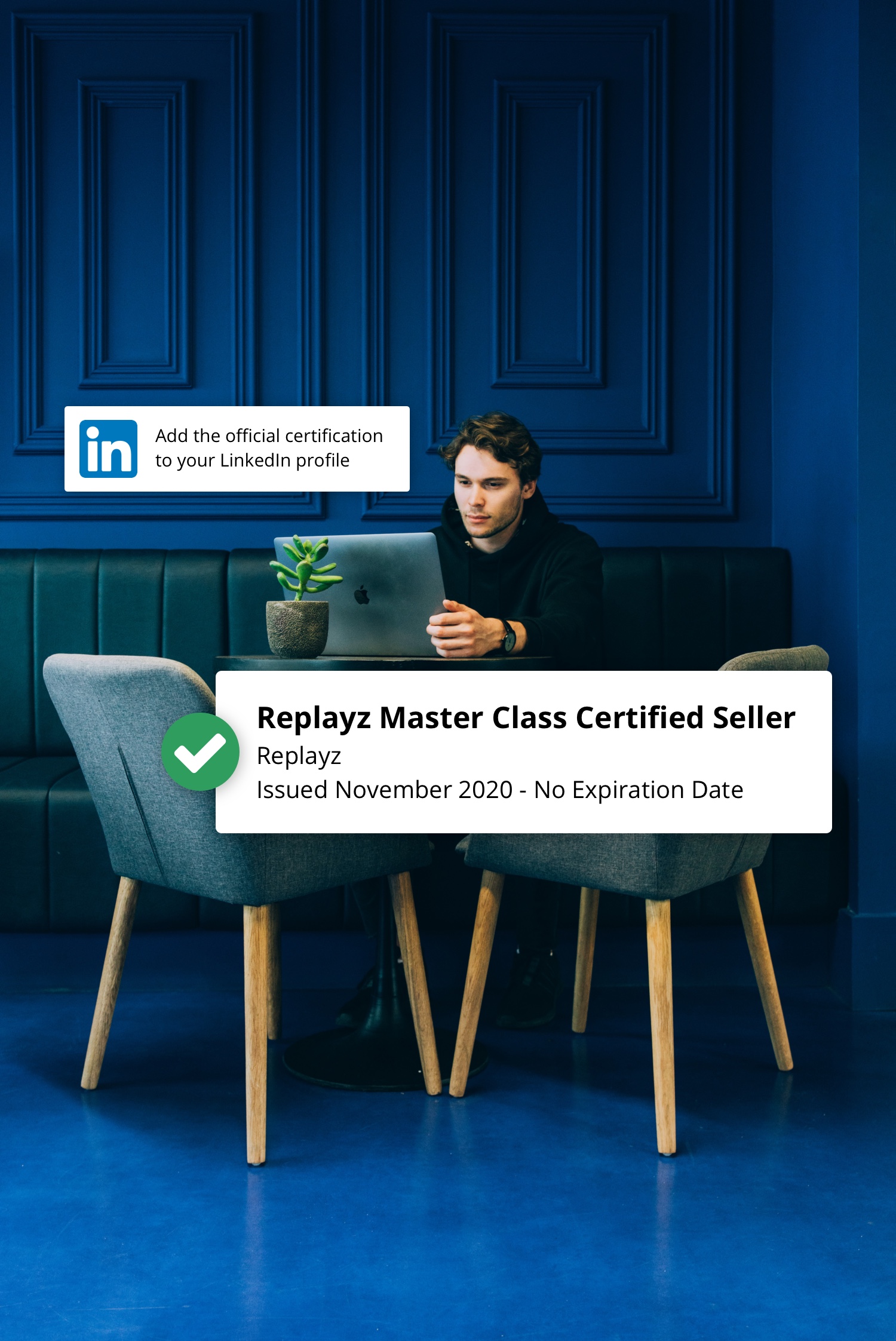 What's in the course:
Module 1 of 6: Sell Like A Pro
There are basics principles that Top Sales reps consistently follow. There are also very common missteps that even seasoned sales reps make... and they don't even realize it.

Sell Like A Pro will ensure that you are 100% clear on what the key traits and processes are that separate the best from the rest.
Lesson 1: How Do You Want Them To Feel?
Lesson 2: Know Your Top 3 Differentiators
Lesson 3: Speak in Story Soundbites
Lesson 4: Prepare a Few Customer Stories
Lesson 5: Find Good Customer Stories
Lesson 6: Have a Pre-Call Huddle
Lesson 7: Your Best Camera Angle
Lesson 8: Get Close to the Camera
Lesson 9: Lighting and Background Tips
Lesson 10: How to Talk About the Competition
Lesson 11: Know Your Competition Inside-Out
Lesson 12: Give Yourself Room to Run Over
Lesson 13: Assume Your Prospect is on the Line
Lesson 14: Get a Fast Internet Connection
Lesson 15: Silence Your Notifications
Lesson 16: Be Prepared for Tech Glitches
Lesson 17: Check for Time Allotment
Lesson 18: Video P's and Q's
Lesson 19: Troubleshoot Tech for Your Prospect
Lesson 20: Turn Your Video On
Lesson 21: Be on Time
Module 2 of 6: Plan For Success
If your competitor is showing up to their sales calls more prepared than you are, you don't stand a chance.

In Plan For Success you will be given a Master Checklist of the most important areas to prep for before your next sales call. Never get outmaneuvered by your competition ever again!
Lesson 1: Begin With the End in Mind
Lesson 2: Propose the Agenda
Lesson 3: Who's Attending the Meeting?
Lesson 4: Do They Really Need to Attend?
Lesson 5: Assign Roles for Success
Lesson 6: Do You Need a Pre-Game?
Lesson 7: Check Your Tech
Lesson 8: Review Their LinkedIn
Lesson 9: Your Supporting Materials
Lesson 10: Share Success Stories
Lesson 11: Research Your Prospect
Lesson 12: Prepare Discovery Questions
Lesson 13: Study the Competition & De-Position
Lesson 14: Adapt Your Style
Lesson 15: Prepare for Objections
Lesson 16: Would Your Prospect Pay for Your Call?
Lesson 17:  Identify Your Champion
Lesson 18: Start an Org Chart
Lesson 19: Collaborate With Your Champion
Lesson 20: Set the Right Tone
Module 3 of 6: Nail The First Impression
The first impression is everything. How confident are you that you are kicking off your calls in a way that it will make a solid first impression and build impression? Building rapport, intros and setting the agenda are 3 key areas that sound easy, but are often not done very well.

In Nail The First Impression you will learn what the best reps consistently do to get their sales meetings kicked off on the right tone.
Lesson 1: Let Them Know That It's Being Recorded
Lesson 2: Take Time to Build Rapport
Lesson 3: Make Introductions
Lesson 4: Propose an Agenda
Lesson 5: Check for Time Allotment & Goals
Lesson 6: Educate Them About You
Lesson 7: Level Set
Lesson 8: Maintain Your Energy & Enthusiasm
Lesson 9: Be Passionate
Module 4 of 6: Master Your Discovery
Most of us agree that Discovery is THE most important part of the whole sales motion. But, there is no question that as our Coaching Teams review hundreds of sales calls every month, this stage of the sales cycle is where the majority of sales reps fail.

Master Your Discovery will ensure you avoid the most common pitfalls that even very tenured sales reps tend to fall victim to. Learn how to navigate through a successful Discovery that allows you to truly unlock the pain your prospect is feeling, quantify that pain, and gain a full understanding as to the impact of that pain.
Lesson 1: Adapt Your Style
Lesson 2: Talk Less Than 50% of the Time
Lesson 3: Understand What's Driving Their Question
Lesson 4: Uncover the Pain of Status Quo
Lesson 5: Ask Them What They're Thinking
Lesson 6: Focus on What They Want to Achieve
Lesson 7: How Long Should Discovery Be?
Lesson 8: Checking In During Discovery
Lesson 9: Always Ask This
Lesson 10: Understanding the True Impact of the Pain
Lesson 11: Write Down Your Discovery Questions Beforehand
Lesson 12: Don't Be a Machine Gun Questioner
Lesson 13: Stay Present
Lesson 14: Be Naturally Curious
Lesson 15: Understand Individual Drivers
Lesson 16: Understand Their Decision-Making Process
Lesson 17: Ask How You Stack Up
Lesson 18: Always Play Anchor Position
Lesson 19: Step Outside Your Comfort Zone
Module 5 of 6: Crush Your Demo / Presentation
When it comes to Demos, it's astonishing how many sales reps think they are doing it right. After taking Master Class our students realize just how far off the mark some of their old habits were taking them.

Crush Your Demo / Presentation will allow you to gain a far better self-awareness about the things that just may be holding you back from being the best possible sales rep you are meant to be.
Lesson 1: More About Meaningful Check-ins
Lesson 2: Be Engaging With Everyone
Lesson 3: Don't 'Powerpoint Slide' Them to Death!
Lesson 4: Screen Share Do's and Don'ts
Lesson 5: Tie It up with a Bow
Lesson 6: Are You Selling or Training?
Lesson 7: Talk Through the Customer Lens
Lesson 8: Tone & Cadence
Lesson 9: How Many Stories Should I Share?
Lesson 10: How Does Your Solution Stack Up?
Lesson 11: Educate the Prospect
Module 6 of 6: Finish Strong & Create Momentum
There are 3 things that almost every top seller consistently does at the end of each sales meeting. Do your struggle with creating deal momentum? Do you get ghosted after the Initial Meeting? Do your deals get stuck in the first stage of your pipeline?

In Finish Strong & Create Momentum we teach you the key aspects required to keep up deal momentum. We will teach you how the best reps consistently move their deals through deal stages quicker than their lower performing counterparts.
Lesson 1: Don't Run Out of Time!
Lesson 2: Don't Leave the Call Without Discussing Pricing
Lesson 3: Always Leave Enough Time at the End
Lesson 4: Pretend You are Leading the Post Demo Huddle
Lesson 5: Negotiation Should be a Give/Take
Lesson 6: Don't Negotiate with Yourself
Lesson 7: Ask Their Opinion!
Lesson 8: How Does Your Solution Stack Up?
Lesson 9: Always Be the First to Propose Next Steps
Lesson 10: Always Get That Next Meeting on the Books
Lesson 11: Double Double
Lesson 12: Think Like a Project Manager

Sample Video

Meaningful Check-Ins
We have found that when the top performing sales reps are presenting to a prospect, they "check-in" in a meaningful way every 1.5-2 minutes. They don't just ask, "Make sense?" or "Any questions?"
Here's a preview of this lesson from Module 5, Lesson 1.
"I cannot say enough positive things about Dave and the entire Replayz coaching methodology!"
"The Replayz MasterClass has been a huge benefit to me in my sales journey!"
Adam Sparks
Account Executive @ Prokeep
Start your free trial!
• 5 day free trial - no obligation to buy
• Close more sales starting today
• Stop second guessing yourself on sales calls
• Learn the top repeatable tips that you can apply today!
• Earn a special Replayz Certification Badge on Linkedin!
"Learning from the school of hard knocks is great, but I would recommend anybody save time and money by learning from the Sales Professionals that Replayz has to offer."
Frequently Asked Questions
Is this course better suited for companies or individuals?
Both! If you are in sales, this course is for you. Some of the highest growth tech companies in the world have signed up for this Replayz Master Class. But, if you are paying this out of your own pocket or with a company educational allowance/stipend, we think it's a perfect fit. We have given you payment options to make it easier on the cash flow for you!
Will I have lifetime access?
Yes, and we will be adding updates as well! But we should probably more closely define "lifetime" :) We have no plans to take the course down, but of course we can't promise that it will still be "live" when you are playing with the great grandkids!
Disclaimer- As long as Replayz is under current ownership and as long as this product exists/remains live, you will have access. Beyond that, we cannot make any promises!
Can I go at my own pace?
Yes! We can just imagine how busy you are! This course was designed for people to work into their busy work and personal lives. Go at your own pace: This library of 90+ videos is there to consume when you are ready.
I am evaluating this for our sales team.  Who can I speak with to learn more?
Can I add a certification to my LinkedIn after I compete the course?
Yes! Join the ranks of some of the top sellers in the world and add your special Replayz Master Class Certification to the Licenses and Certifications section of your LinkedIn Profile.
How much time should I set aside to complete this course?
The 90+ library of videos contains almost 4 hours of instruction. Make the most out of this experience and factor in time for the worksheets and quizzes as well.